5 Ways How SAP S/4HANA Cloud Will Increase Your Business Productivity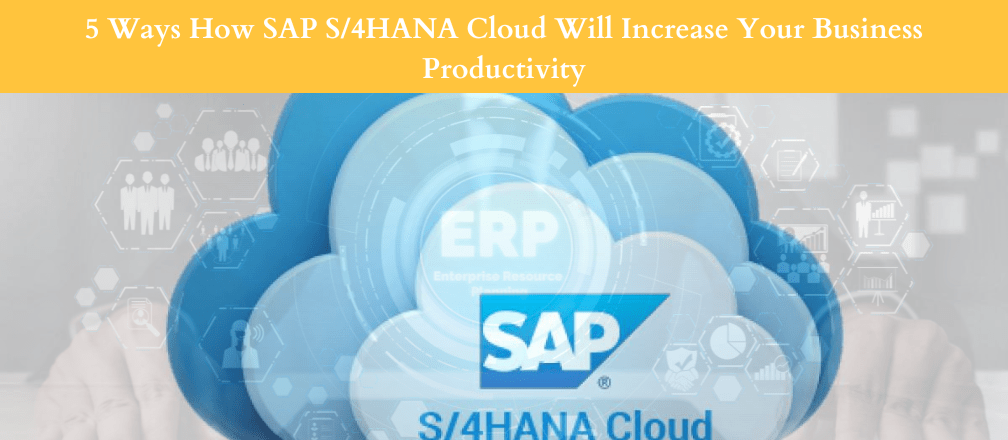 With changes in needs for modern days, businesses are also changing. Thus, businesses require meeting the evolving needs of the customers. To thrive in today's scenario, businesses need to swap from SAP-to-SAP S/4HANA Cloud. If you are yet to implement the transformation, you need to read this article. Here we will find out the way SAP S/4HANA Cloud can be beneficial for improving business productivity.
SAP SAP S/4HANA Cloud:
SAP S/4HANA was created as a SaaS version. It is the combination of several business applications. Some of its areas have improved advantages over time management tools. Thus, offering you to revolutionize the business process. Due to the automated process and AI integration, it can be a great choice. Therefore, SAP S/4HANA Cloud can be helpful as it helps to make informed decisions.
SAP S/4HANA Cloud has been designed on SAP HANA. Thus, it takes advantage of the in-memory processing of HANA with real-time access to data. However, the SaaS model is the only point of differentiation. The most beneficial thing is you can access the functionality without needing additional databases, hardware, or staff.
Research says that 50% of executives think that it is a value proposition in IT. SAP S/4 HANA ERP Implementation helps to ensure following the best industrial standard by enabling critical business functionalities. Businesses will have the opportunity to make actions and decisions faster with the machine learning capability. Furthermore, it dramatically reduces the training time. Therefore, helping users to take practical actions more quickly.
SAP S/4HANA Cloud ERP Software is a great choice in today's competitive era. It will be greatly beneficial if you wish to stay ahead of the competition. With business agility and flexibility, this software provides the ultimate ease. Such enormous benefits can improve the chances of business expansion on a new path.
Furthermore, SAP S/4 HANA ERP Implementation is also beneficial in understanding market demands. It can easily absorb the shock created and ensure the best experience for the customers.
Deploying SAP S/4 HANA in your organization can help you transition from a capital expenditure plan to an operational model. Thus, it will need less upfront capital investment. Therefore, it is a great choice for all the small businesses willing to set up their own business.
Generally, support and changes come around 50% on-premise operational cost. With the SAP S/4 HANA ERP Implementation, it can be greatly reduced and enables you to get improved visibility of your organization.
The responsive design and intuitive interface help in understanding. In total, it is a great choice to improve productivity with the application. However, you can stay assured that it cannot be achieved even with the use of time management tools.
Modern businesses can store data in clouds, which is definitely secure with the SAP S/4 HANA cloud. Therefore, you can greatly reduce the chances of a data leak. Besides, complying with the governance improved business productivity.
If you wish to improve your business productivity, choose Cogniscient for a successful SAP S/4 HANA ERP Implementation.