Rise with SAP S/4HANA Cloud Is More Capable of Handling Business Change and Challenges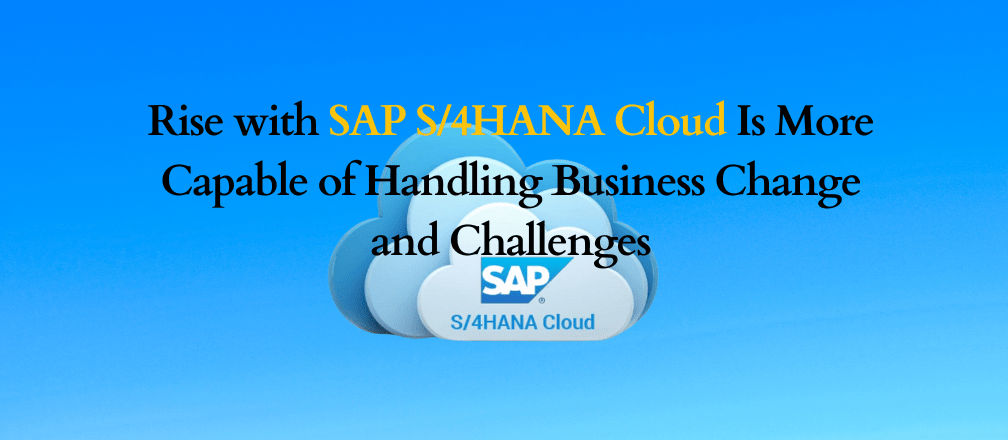 In today's work businesses can only survive if they are able to go with the pace. Thus, the fast-moving world needs continuous shifts in decision-making, quick turnaround times, and the ability to resolve issues faster. Since technology plays a bigger role in today's scenario, it is necessary for businesses to choose and implement the right technology to enjoy the best results.
SAP implementation has been effective for businesses in the last decade. However, in today's scenario, you cannot expect to enjoy world-class features by using last-generation ERP. Therefore, making SAP S/4 HANA ERP Implementation has helped many businesses to leverage cloud technology and go to the next level.
SAP S/4 HANA Cloud Suite:
The SAP S/4 HANA Cloud has been properly built to help businesses acquire a comprehensive view of businesses. It is a 360-degree digital transformation. Therefore, this high-end tool uses real-time data and in-memory processing to leverage its many benefits. The performance of the cloud and the power of HANA combines to provide the best results.
The main modules of SAP S/4 HANA help businesses in diverse scenarios. The modules include procurement and inventory, HR, finance, manufacturing, sales, and professional services. Therefore, with the diverse features and modules, this powerful suite becomes an ideal inclusion for any business.
SAP S/4 HANA Cloud is the SMART Technology of the 21st century:
With the new technology, this powerful ERP software provides the ultimate benefits. Therefore, businesses get the ability to follow the best industrial practices. It can become a great choice to achieve their business targets. Besides, an intuitive user interface and ready-made functionality help in making faster decisions and getting quicker results.
Hence, SAP S/4 HANA Cloud is capable of businesses handling continuous change and overcoming challenges. The best practices followed as per the industry make it a great decision.
The capabilities of SAP S/4 HANA Cloud:
Artificial Intelligence
Big Data
Machine Learning
Embedded analytics
In-memory database
SAP S/4 HANA Cloud Implementation Ensure Success:
Business in the current times has to face the fast-paced world. There is a need for them to be backed with technology that enables faster decision-making processes. Therefore, choosing the SAP S/4 HANA Cloud can be a great decision. With the modules included in this powerful and comprehensive suite, it ensures managing a wide range of business activities.
Therefore, being the future of ERP, implementation can be a valuable decision. Businesses that want to remain updated with the latest solution can adopt SAP S/4 HANA Cloud. The innovative solution makes it a better and more informed choice. However, it requires additional knowledge and strategic implementation. Choosing Cogniscient can be a great choice for SAP S/4 HANA ERP Implementation.
Businesses Get the Competence of the Cloud:
Businesses can leverage the unified ERP solution. It can help them to enjoy efficiency and growth. By leveraging real-time access to data, businesses can easily make smart decisions. Choose Cogniscient if you are looking for an all-rounder partner. Their seamless interaction in your business process helps to improve business and enjoy long-term relationships.