RISE with SAP S/4HANA Public Cloud for Automotive Industry: The Solution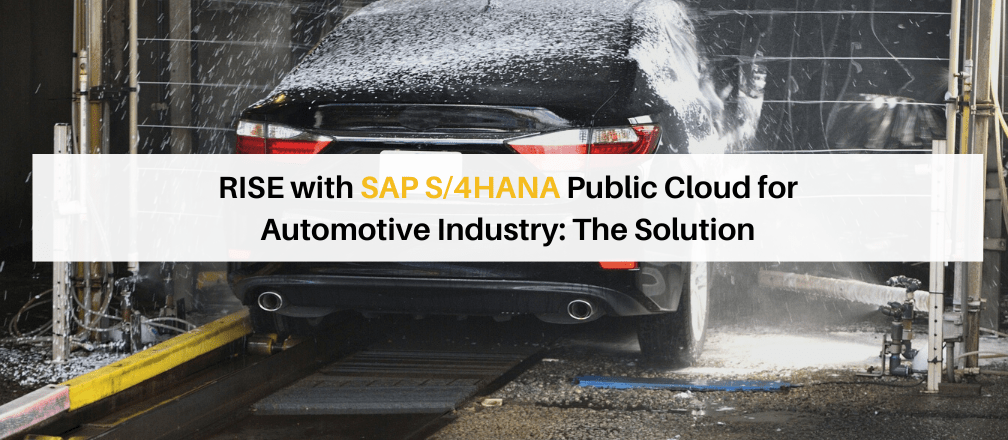 In today's competitive world, businesses will only be able to survive if they maintain the pace. We all know that in this fast-moving world, if you cannot match the continuous shift, you will only stay behind. Especially if you are in the automotive industry, you require paying attention to the SAP for automotive Industry as it provides great solutions.
There is a need for quick turnaround times, fast decision-making, and ensuring resolving issues much faster. As technology has constantly been changing and improving, it plays a significant role. Therefore, it is necessary for businesses to pay attention to the new SAP ERP solutions and implement them to get the best results.
Implementation of SAP for the automotive industry can be extremely effective due to the huge number of benefits. You can expect to enjoy the latest feature when you're using the latest SAP S/4 HANA cloud-based solution. It can help businesses to grow by understanding their problems and leveraging the best to ensure exceptional results. It has also been witnessed that SAP ERP solutions have been exceptionally successful for other industries.
The New SAP S/4 HANA Cloud:
The latest cloud-based model of SAPS/4 HANA has been specially developed to help businesses get a complete view of their operations. It ensures 360° digital transformation. Hence, when you use this high-quality
SAP ERP
solution, you can leverage the new and high-end benefits. The cloud performance combined with the power of HANA improves the results. The primary model of this latest
SAP ERP
solution can be very beneficial for businesses in a range of scenarios. The diverse module includes inventory and procurement, finance, sales, professional services, and manufacturing. Therefore, this is one ERP solution with various features to help you get a comprehensive view of the entire operation.
SAP S/4 HANA Cloud: A Smart SAP for Automotive Industries:
With the emergence of new technology, you must leverage the power of SAP ERP software. It offers the ultimate set of advantages. Hence, automotive industries will be able to follow the latest business practices and enjoy better finance and revenue. Choosing the newest SAP ERP solution can be beneficial in achieving business targets in less turnaround time.
Additionally, the preset functionality and easy user interface can be helpful for everyone to make faster decisions and get better results. Therefore, the latest cloud-based model has the capability of handling the constant changes in businesses and overcoming all the challenges. Following the best practices can help make the best business decisions.
Capabilities of The Latest SAP S/4 HANA Cloud:
Big Data
Embedded Analytics
Artificial Intelligence
Machine Learning
In-memory database
Guaranteed Success With Implementation of SAP S/4 HANA Cloud:
Currently, businesses require matching the pace of the fast-changing world. Hence, there is a need for industries to be backed with powerful technology that will help them get a 360° view of the operation and make the best and most informed decision. Therefore, the S/4 HANA cloud can be a great choice due to its comprehensive and powerful suite.
You can choose Cogniscient if you want to implement a great solution like SAP Business One for small businesses or a comprehensive cloud-based solution like S/4 HANA.