SAP S/4HANA Solutions for Professional Services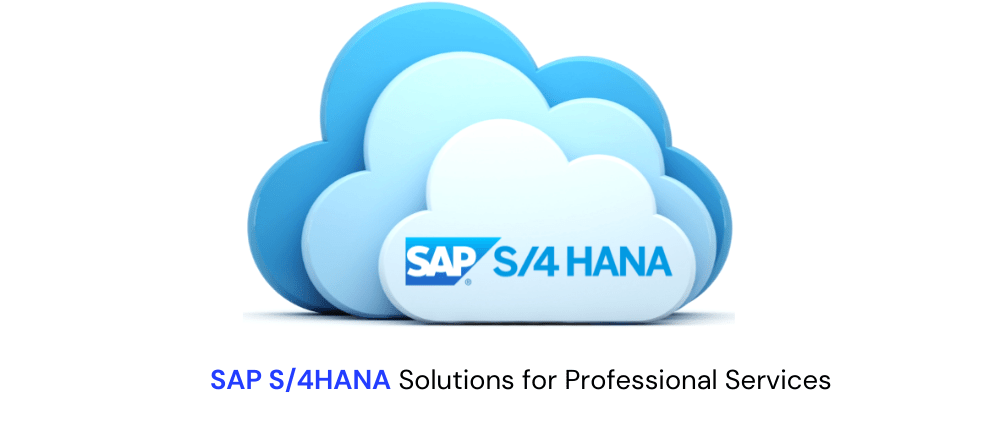 In modern days, professional services require proper technology. From the advanced technologies, SAP S/4HANA is a powerful name. Hence, implementing it in professional service can offer endless benefits. Since it centralizes information, it can save your time and resources.
Most businesses have started leveraging the potential of using ERP for Professional Services. To compete in the current market, businesses require advanced technologies. Thus, SAP S/4HANA Cloud can be a beneficial choice. Its features and functionalities can be a huge benefit.
What is SAP S/4HANA?
SAP S/4HANA is a cloud-based model that uses artificial intelligence for transforming the business processes of a company. Thus, it is highly effective in reducing its data footprints to a huge 50%. With SAP S/4HANA cloud, extraction is faster, which offers a lot of benefits.
Apart from these advantages, this technology has enormous advantages. Not only does it use advanced AI, but it also enables graphical data. You will be able to find the data displayed in a very simple manner. Therefore, you acquire better insight into the operations.
SAP S/4HANA is a great ERP for Professional Services that can be helpful for companies. Hence it can assess staffing levels, engagement profitability, enforce limits, simplify time entry, and a lot more. Thus, you will be offered a multitude of advantages.
What are the benefits of SAP S/4HANA ERP for Professional Services?
Optimize your engagement profitability: It can offer real-time insight and reduce the service cost. Thus, you can get a comprehensive insight into the expense process. Integrating into the billing process and project delivery can make it highly beneficial.
Access staffing level from anywhere: You can acquire onboard resources in time for your upcoming projects. Therefore, you can continuously track resources and check contact details. Thus, helping you to collaborate with organizations, partners, and teams.
Simplifying time entry: You can easily streamline the time entry process to remind employees when the entries are rejected. Thus, it can be helpful for them to correct their time and resubmit them from anywhere.
Expense Billing: You will be able to boost your client by staying within time and expense. Since it offers a thorough insight into the process, it can become an excellent choice for you. Therefore, you will be able to impress your clients every time.
Bid Management: You can easily speed up the bid creation to improve project margin. With the practical planning features offered by SAP S/4HANA, you can run a smooth execution. You can get historical and real-time insights.
Streamline cash: You can easily create customer contracts with personalized payment plans and competitive pricing. Thereby simplifying the billing process with the consolidated invoices in the different engagement types.
So, now that you have the knowledge of SAP S/4 HANA Cloud, especially in professional service, you need to implement it quickly. Remember to choose a reliable SAP S/4 HANA partner. Cogniscient is one such name that can integrate SAP S/4 HANA Cloud and ensure enjoying the multiple advantages.