SAP S/4HANA Solutions for Real Estate Companies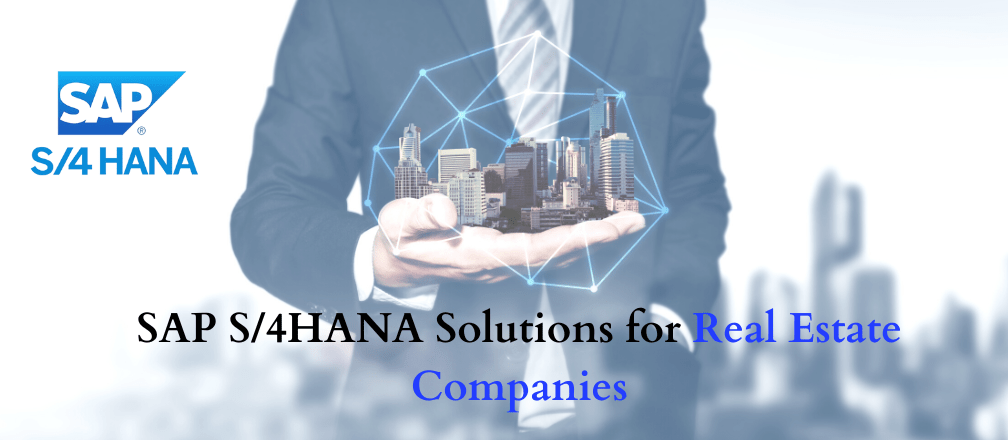 In today's competitive society and globalized era, reducing cost, optimizing assets, and ensuring portfolio insight are important strategies. Thus, the revolutionary SAP S/4HANA Solutions for Real Estate Companies can be beneficial to improving the TCO and ROI of real estate businesses. The advanced module can provide everything that real estate industries need.
The advanced module can meet every single requirement. Integration of SAP ERP solution helps to address the life cycle of realty procedure, availability of workforce, understanding customer demands, and compliance with the industry's regulations. Thus this state-of-the-art solution is the need of the hour for real estate companies.
SAP S/4HANA for real estate companies
Choosing the top implementation partner can encompass the complete real estate ecosystem. Based on the industry-specific requirements, they can use digital technologies to handle a multitude of aspects. Besides, implementing SAP S/4HANA ensures streamlining the process and optimizing with the best practices.
The SAP ERP solution for real estate industries is integrated with finance and backend operations. Thus it is highly recommended to improve the performance of real estate enterprises, lease accounting, building management, and much more. Managing the real estate industry with SAP S/4HANA becomes less complicated and achievable.
Features of SAP S/4HANA for real estate companies
The SAP real estate solution can help address the management processes. Choosing the top implementation partner like Cogniscient can help integrate the modules into the financial process. With years of experience and understanding of the latest modules, the professionals help to overcome the challenges.
Partner management
Real-time reporting
Property management
Lease management
Financial management
Profit center accounting
Document management system
Service Management
Bill of quantity process
Benefits of SAP S/4HANA for real estate companies
It can improve charging back costs and processes. Thus, it is capable of reducing administrative expenditure by invoice generation.
It can be effective in managing and tracking space occupancy. Thus, providing comprehensive information to the companies.
It can provide improved data analytics. Thus, it can become effective for businesses to make decisions based on real-time insights.
It can enhance efficiency by automating management processes and lease administration. Thus, the advanced processes can greatly reduce duty segregation and error and ensure no penalties.
It can streamline the internal process and directly connect receivables and payables.
Choose the top SAP implementation partner:
Real estate industries can enjoy the features with many advantages provided by SAP S/4HANA. Since it is integrated with several features, the real-estate industries can greatly enjoy the benefits. Besides, the real-time information based on accurate inclusion can be highly rewarding for companies to make informed decisions.
So, if you wish to enjoy the plenty of advantages of using SAP ERP solutions for real estate companies, choose the best implementation partner. With their huge experience and knowledge, industries will be packed with dozens of features that can catalyze their growth.
Choose Cogniscient as they have the experience and knowledge in implementing the advanced SAP HANA. These experienced professionals and comprehensive knowledge can eventually become rewarding for businesses and enhance growth.