The Top 3 Reasons Why SAP S/4HANA Implementations Fail and How to Avoid Those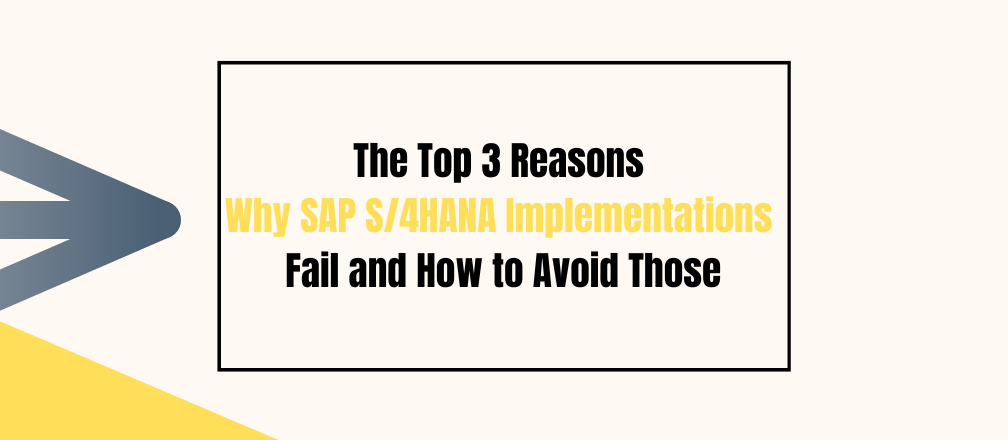 It is no more a secret that the success of a company is based on how it has managed its customers, employees, vendors, and business operations. Therefore, most top-notch companies have sorted this out by choosing powerful technology tools. The ERP solutions provided by SAP S/4HANA software are one of the pioneers on this platform.
These are the companies that have realized the importance of making use of unifying systems like enterprise resource planning. Since it is a great choice and a perfect way to walk on the road to success, most companies have started making digital transformations.
ERP is also a continuously evolving platform to provide even better service. The latest and most powerful ERP suite available in the market is SAP S/4 HANA. However, several studies have shown that only a handful of companies have acquired success.
Reasons why implementation of SAP S/4 HANA fails:
No proper strategy:
One of the biggest reasons SAP implementation fails is that companies do not have a proper strategy. Most implementation partners fail because they need to have specific and clear objectives in mind. Even when they have higher goals for implementation, they forget some of the most critical things, leading to failure.
It has even been witnessed that a leading giant completely abandoned SAP services as the system was unfit for the strategy that the modern world demands. This hindered the company's services and resulted in failure. When you get a proper answer, it will provide direction to several other questions like alignment with the business objective, implementation strategy, schedule, resource allocation, and a lot more.
The best way to avoid such failure is to create a strategy with the stakeholder and align implementation based on the business goals.
Lack of agility:
When you migrate to the SAP cloud, you must know that it is a gigantic step. Even when the implementation is seamless and effortless, it sometimes goes wrong for different users if they are not trained in the changes.
The major challenge companies and businesses experience is operating in this fluid world. Since customers are very fickle-minded and the market is dynamic, there is always a need for change. Even when hierarchical implementation, hidebound and inflexible implementation efforts might achieve the goals, it can trap the business into a set path that needs to be updated.
The only solution is after implementation; decision-makers must be aware of the changes that will take place in the workflow and process. This will help them to make changes in the functional areas.
Improper alignment with existing systems:
Remember that implementing SAP S/4 HANA would not work in a vacuum. There is a need to find a proper place in the tech stack. Changing different aspects of your business will require different essentials. Hence, understanding and aligning are a must.
You have to understand how the entire system is connected, the risks of implementation, and find other issues while aligning with the existing system.
The best way to resolve this is to find experts with expertise and knowledge in implementing the system. A premier software partner like Cogniscient will help you to implement solutions with the existing system. Their training can be helpful for your organization.