What is the difference between SAP ECC, HANA, and S/4HANA?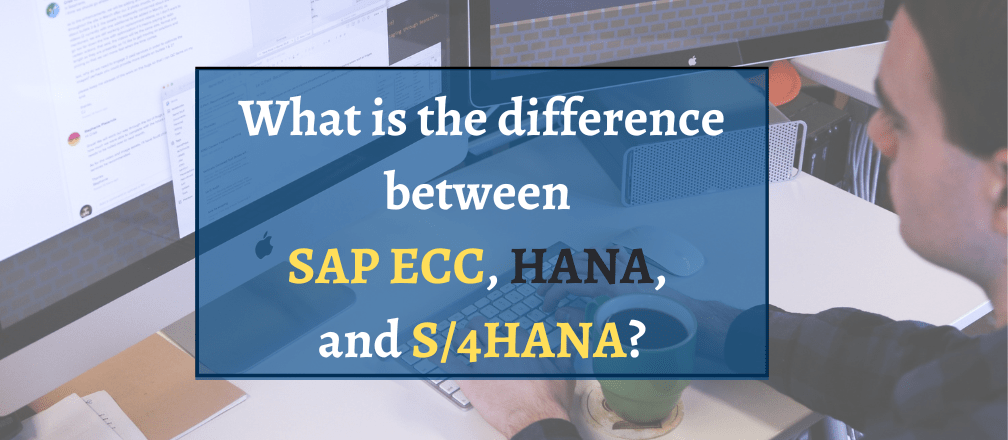 With businesses starting to get more options, owners are now willing to find the prime difference between SAP HANA, ECC, and SAP S/4 HANA. If you don't have much technical background and knowledge, it might become challenging for you to understand. So, here we are to provide the prime differences between these. Irrespective of the choice you made, it is always a necessity to choose a knowledgeable implementation partner to enjoy its advantages.
SAP offers exceptional quality ERP software or Enterprise Resources Planning solutions. It focuses on the major areas of business that makes operations a lot easier. Some of these areas include Asset Management, inventory finance, marketing, product development, HR, and sales.
What is SAP ECC?
SAP ECC, which is also popular as SAP ERP, is the legacy suite of the enterprise application. It was primarily designed for businesses to run on a third-party database. In 1973, it started offering the financial software package, which is also popular as RF, followed by other modules called Material Management module RM /1 is another component.
R/2 was then released in 1979 as the integrated multiple enterprise functions. It helped businesses in several aspects like manufacturing process, accounting, HR, and supply chain logistics. In 1992 R/3 was released. This was the server client package which included a range of databases and operating systems. In 2004 it renamed the core product to ERP Central component. So, it is now either known as SAP ECC or SAP ERP.
What is SAP HANA?
SAP HANA was released back in 2010. It is the in-memory database that was primarily designed to accelerate the applications of SAP and the supported business processes. It is the process that is the most accessible functioning of SAP Business suit.
The innovation in HANA design, like simplified data structure and in-memory computing, can improve product performance visibility and offer improved analytics use. It can help companies to react efficiently to marketing conditions based on the data received. Rather than relying on quarterly reports, the real-time data provided by SAP HANA can be extremely beneficial.
Moving the SAP business suite to SAP HANA means running the business suite on the HANA platform. This is the very first step in the migration of S/4 HANA. Even customers can move on to HANA and later upgrade to S/4 HANA. This will help companies to reduce risk and disruption while improving ROI.


What is S/4 HANA?
SAP has remodified the ERP solution, where they can enjoy the benefit of HANA performance along with the latest data models. In 2015, it launched and offered a great UX called SAP Fiori. It hosts a range of case-specific advantages and hosts a range of applications.
Technically, S/4 can resolve some common problems by using conventional ERP modules like data sprawl, manually driven procedures, and batch latency. Hence, it can reduce the overall cost and disruption along with improving the stability of businesses.
SAP is a complex module, and migration requires the best implementation partner. You can enjoy its notable benefits only when you choose someone like a Cogniscient service provider.