SAP S/4HANA ERP for Manufacturing Industry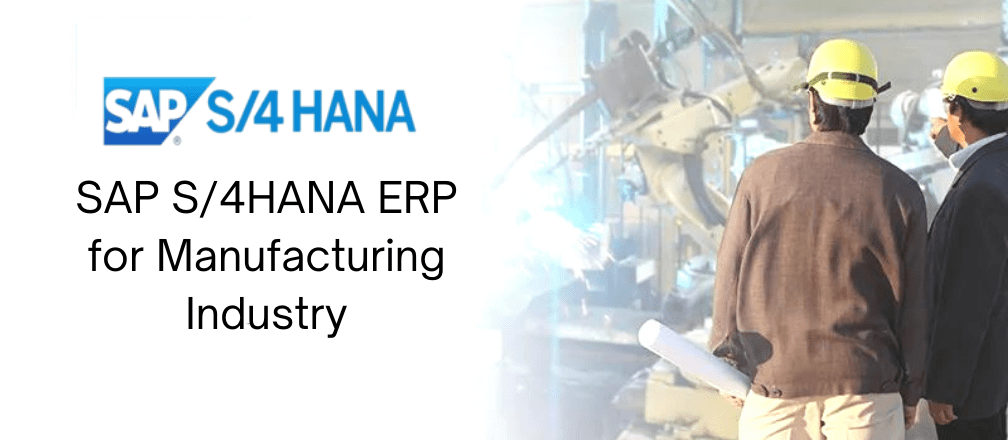 Modern-day advancement is the only adjective. However, manufacturing industries that are constantly rising would require an efficient solution. To manage the entire workflow and make it easier, and excellent SAP ERP system can be a valuable inclusion. Undoubtedly manufacturing industries have a mammoth place. Integration of SAP S/4HANA ERP for the Manufacturing Industry can be rewarding.
Every industry is different and holds unique dependency. The variation makes it hard to keep a trace. However, with digital transformation, manufacturing industries can now enjoy many advantages. So, let us first check the challenges that manufacturing industries mostly face.
Challenges Faced By the Manufacturing Industries:
Keeping intact the regulation while making the process simple.
Ability to move with the latest trend of the fast-paced world.
Bridging the gap between old practice and modern methods.
Benefits of Using SAP S/4HANA ERP for the Manufacturing Industry:
A matured process: After the initial release in 2015, SAP S/4HANA has been updated numerous times. Thus, there is a considerable enhancement in usability and functionality.Previously the attention was more on accounting and finance, while the latest one is a diverse module. Therefore, you can now enjoy a wide range of activities like scheduling, planning, sales, procurement, and a lot more.
Leveraging decades of experience, SAP has included a fully functional single solution. Thus, with this, you will be able to find more profit and a refined result.
Easy to use: Apart from a large number of benefits, user-friendliness is one of the most common advantages. It is something that improves productivity and accuracy in workflows and information. Since the S/4 HANA uses the SAP Fiori UI, it has an intuitive and easy dashboard. Thus, it becomes easy for users to learn new things and get information.
Besides, the easy-to-read UI and single dashboard provide the opportunity to get in-depth information. Therefore, it can be highly beneficial in decision-making.
Less Complex: To make the process less complex, most companies are looking forward to creating custom developments. This is done to fulfill their individual requirements. SAP, being a name that has been around for decades, has grown and advanced. With their vast experience, they have typically served many industries.
The incorporation of the best practices in the last S/4HANA makes sure that industries do not have to invest in custom designs. Thus, its flexible and simple features in it can reduce the system's complexity. Apart from this, it also simplifies system management, reduces implementation times, and creates an adaptive model. Therefore, it helps businesses to evolve over time.
Valuable insights: Analytics are powerful. The data provided by the SAP S/4HANA can be largely implemented in industries. These real-time insights can help industries make the right decision. Besides, these are designed in an understandable fashion so that it becomes easier to make decisions.
So, now that you have got the knowledge about the benefits of SAP S/4HANA ERP for the Manufacturing Industry, look for the best implementation partner. Cogniscient is a name that has the experience and expertise to implement and enjoy its advantages.