SAP S/4HANA for Engineering Construction and Operations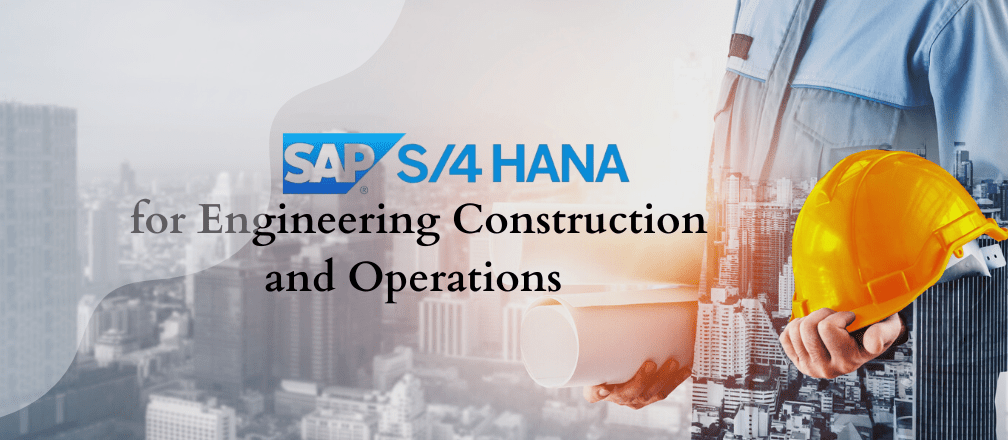 Engineering, Construction, and Operations are the three critical industries. These three are combinedly known as EC&O. They play a significant role in the nation's future economy. However, due to the high data volume, EC&O enterprises constantly face various challenges. Thus, the integration of a powerful and advanced module is a necessity. With the integration of SAP S/4HANA enterprises will succeed in making the right decisions.
The advanced design and the best practices will lead these industries to grow. Thus, integrating the latest SAP S/4HANA will help the enterprises overcome challenges. To put it in simple terms, businesses need to focus on significant areas. These include.
Cost Control
Project management
Estimation accuracy
Take-off management
Currency management
Project Handover
Business digitization
Engineering skill-set
Digitization has improved the supply chain while promoting demand-driven and collaborative supply chain networks. Thus, it becomes helpful to meet the growing requirements. By utilizing inventory strategies, you can enhance customer service. Besides, customer service can also be improved with a proper inventory strategy. Thus, EC&O industries can enjoy the benefits of SAP S/4HANA.
Understanding more about the efficacies of SAP S/4HANA for Engineering Construction and Operations:
Pre-construction: Using the latest SAP S/4HANA, you can proceed ahead to improve the project profits. It becomes simpler to manage the pre-construction businesses. Thus, with the 5D construction solution, integration with estimates, budgeting systems, and procurement becomes simpler. Besides, it plays a massive role in boosting business efficiency.
Procurement optimization with real-time visibility and procurement can ensure the process. It is also beneficial in budget forecasting, pre-construction charges, and the Bill-of-material quantities. Thus, with advanced SAP modules, you can enable contract and source, construction and design, and a lot more.
Project Delivery: Project delivery on time is a considerable aspect of the industry. Success is inevitable when you are able to achieve profitability and exceed customer expectations. Since you have to coordinate with field operations, you need to have proper and advanced technology to keep an eye on.
With the SAP advanced modules, addressing issues and incident management becomes possible. So. integrating the SAP S/4HANA for EC&O industries can be effective in delivering goods and handling buying decisions. Thus, businesses can comply with the market standards.
On-time Delivery: It becomes possible to get the best of the assets. Integrating SAP S/4HANA can accelerate equipment and facilities. Thus, it can help to improve the profit margins by integrating proper SAP solutions. Besides, performance monitoring again can get simpler.
Additionally, having advanced technology can reduce downtime and ease maintenance. So, integrate it into your process to streamline asset maintenance and handle real estate management. Thus, it can manage facility operations effectively.
Finance Management: The extraordinary finance management system included in the SAP makes it possible to work collaboratively. Thus, it enables industries to ensure pay and invoice-to-cash, travel, and record-to-report by complying with regulations.
So, these are the most advanced benefits of SAP S/4HANA for Engineering Construction and Operations. If you wish to implement and enjoy the multitude of advantages, contact Cogniscient.