What are the key features of SAP S/4HANA?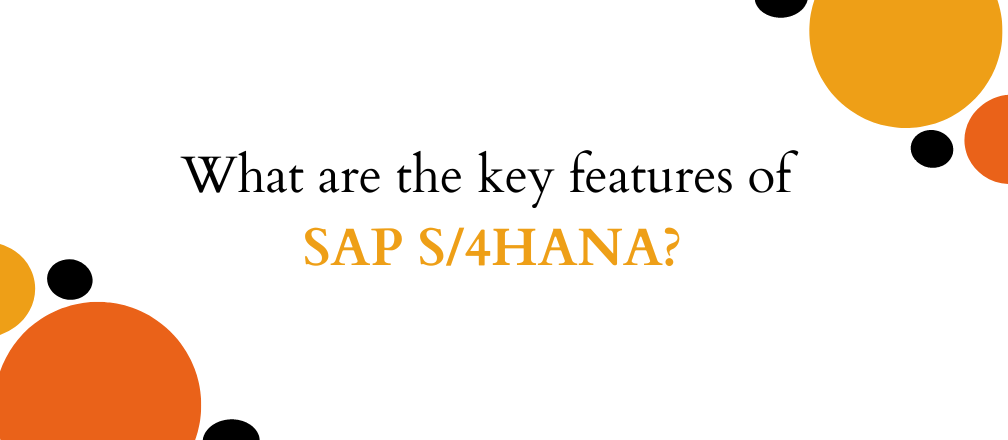 In today's digital age, with huge competition, businesses are looking forward to acing the race. Therefore, you need to integrate advanced technology to provide a great experience and innovative services or products. SAP S/4HANA ERP solution is one such intelligent technology that businesses can leverage. This high-end technology can provide overwhelming advantages in today's fast-paced digital world.
Using an intelligent ERP solution will become effective in the workforce. Since it helps to focus more on the operation, it ensures top-notch outcomes. Thus, companies can become agile with improved sustainable growth. Furthermore, by providing an end-to-end customer experience, businesses can acquire exceptional customer experience. Hence, the implementation of the high-end intelligent SAP S/4HANA model can be highly successful.
If you want to know the major features of SAP S/4HANA, then keep reading.
Financial closing: This high-end technology helps users execute, plan, analyze and monitor the company's financial aspects. Thus, they can easily take the financial decisions associated with an enterprise. This becomes beneficial in improving the accuracy and keeping the financial records. Therefore, helping companies to make informed financial decisions.
Better management: The SAP S/4HANA Cloud ERP Software helps to improve quality. Getting improved knowledge about the receipt makes it easier to manage the quality activities. Therefore, if you want to enhance quality with improved management, SAP S/4HANA is something you need.
Intelligent Suite: SAP is an intelligent suite that curates functionalities to improve your business operations. It can easily address the challenges faced by a company. Thus, having a suite can be highly beneficial in managing a range of business aspects like IT, supply chain, customer experience, products, employees, and a lot more. Besides, it is a great solution that helps stakeholders enjoy getting comprehensive business insights.
Experience Management: You need to understand the reasons why things happen. SAP S/4HANA has been powerfully built, keeping in mind the need for companies. Thus, it can be helpful for businesses to improve brand experience, product management, employee management, and a lot more. In addition, the streamlined process can be a great choice for an organization in spotting real-time problems. Thus, with experience management, you find how employees, stakeholders, and customers feel, thereby improving their experience.
Business platform: The business technology platform of SAP can help to improve business processes and help turn them into action. Thus, the digital platform makes things quicker and easier for any enterprise or company to become intelligent. In addition, the unified platform with analytics, data, and intelligence supports a range of integration and development.
Cloud Platform: Being a service, SAP is a cloud platform that helps organizations undertake application management. Thus, helping users to access real-time data. SAP cloud is a great platform with several key functionalities to help businesses. Some of them are security, analytics, transactions, and a lot more. Besides, cloud service helps businesses deploy best industry practices to improve their business outcome.
Sustainability management: Sustainability management solution helps to address the needs. Therefore, integrating safety activities and compliance while enhancing sustainability management ensures the best for any organization. Hence, businesses can manage and understand the impact on their users.
If you want a successful SAP S/4 HANA ERP Implementation, choose Cogniscient today.