SAP S/4HANA Solutions for Automotive Industry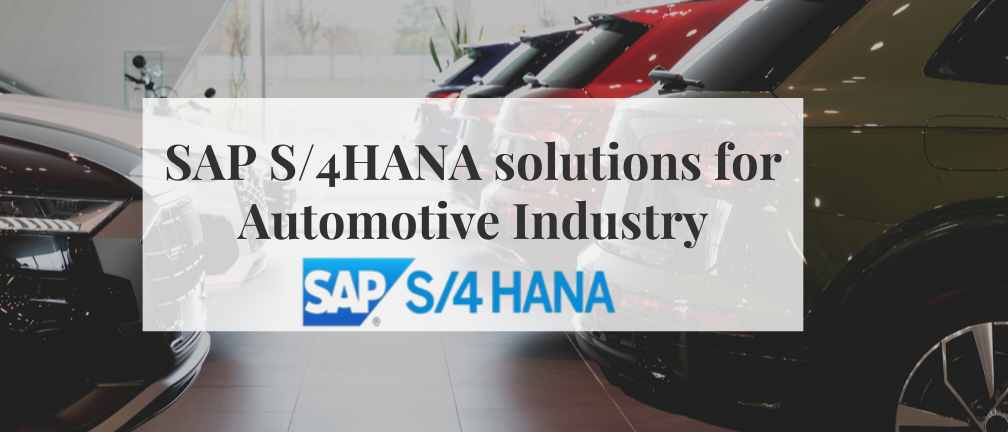 Most organizations are well aware of their operations. Since they have knowledge about the operational data and the complete supply chain, they can make informed decisions. Leveraging the benefits of SAP S/4HANA, the automotive industries have started streamlining their processes. Thus, helping the auto industry to improve at a fast pace.
SAP S/4HANA solutions for the Automotive Industry are highly beneficial. Thus, with this advanced technology, industries are able to observe a multitude of information. They can find the customer and social, behavioral patterns, business strategy, and much more. Research has shown that such technological advances can improve customer expectations and perceptions.
Challenges faced by the auto industry:
Digital transformation and technological convergence have made the industry a lot more competitive. Thus, we have witnessed a significant evolution in technologies like real-time computing and Artificial intelligence. It has resulted in the introduction of driverless cars. Additionally, proper manufacturing execution has reduced carbon emissions.
These have improved customer experience. Therefore, more manufacturers are walking towards changing software, hardware and business models. So, companies need to be more attentive to development, engineering and research.
Another major challenge is transportation and fleet management. Thus, there is a need to implement a comfortable and attractive interior to improve the driving experience.
Role of SAP S/4HANA solutions in the Automotive Industry:
SAP S/4HANA is an automated tool that helps establish connectivity, manage compliance, and much more. Detailed analytics and insight play a considerable role in the manufacturing and research process. Thus, the data can be a valuable choice in innovating business processes with data-driven decisions.
Transforms ideas into reality: A designer or architect first has an idea with interior and exterior design. They prepare the appearance. Thus, it requires the use of advanced software for transforming ideas. This is where SAP S/4HANA becomes primarily beneficial. Since budget estimation is again necessary, implementing SAP S/4HANA cloud can aid the process.
Streamline manufacturing and logistics: The experts of SAP S/4HANA have eradicated inefficiencies in the production and planning process. Thus, it helps the automotive manufacturing industries stay updated. Besides, it also becomes safer for companies to create a safe working environment. The manufacturing analytics and insight help to improve performance and customize KPIs. The SAP S/4HANA technology makes the process high-quality, cost-efficient, and easy.
Automate Supply Chain Networks: Companies need to create an effective and robust supply chain network. Thus, it becomes effective in managing the demand and getting more productivity. SAP S/4HANA will help you keep track of the digital component and make the 3D painting. Besides, it is also helpful in gaining improved visibility in the supply chain with automated networks.
Adoption trending techniques: SAP S/4HANA is highly effective in providing valuable insight into internal sales. Thus, it can be great to monitor the latest sales order. This way, you will be able to improve the personalization, revenue, and order management process.
SAP S/4HANA can be largely beneficial for the automotive industry. If you want to implement it for improved production, get in touch with Cogniscient