SAP S/4HANA Solutions for Mill Products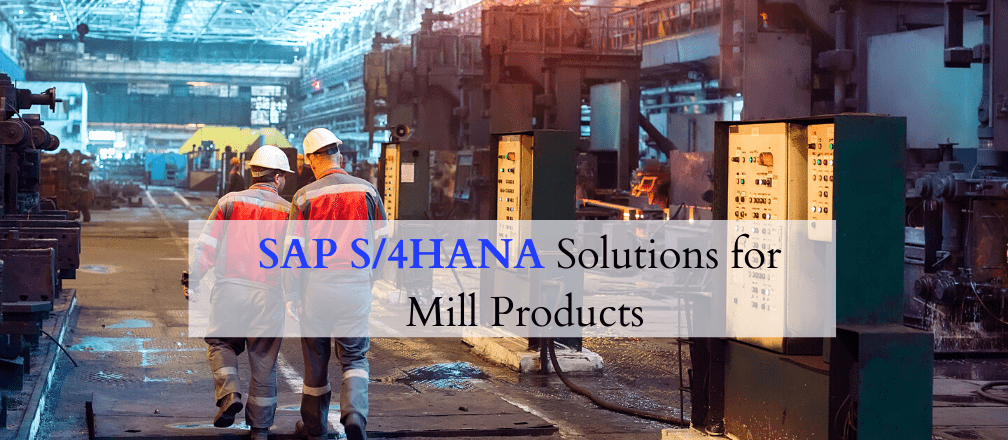 SAP S/4HANA has a design that can help different industries. With the growing demands, this advanced SAP module has been a great choice. Thus, choosing the SAP-HANA database technology provides unparalleled new capabilities. The SAP S/4HANA is available in both cloud and on-premise versions. Therefore, it enables both mid and large-sized enterprises to scale and acquire a competitive edge in the market.
Mill Products: If your business is in the milling product industry – from agricultural to textiles, transforming to digital is a necessity. Thus the SAP S/4HANA solution is tailor-made to fit this sector's requirements. It is designed to target the fundamental problems of this industry like runway energy costs, overcapacity, commodity price volatility, and regulatory demands.
Such features enable you to create business functioning like customer relationships, asset management, logistics, and manufacturing. Therefore helps you to make efficient management of your organization. Besides, the efficiency of the SAP S/4HANA makes it innovative and adaptive. Thus, catering to the diverse customer demands and personalized offerings.
Following are the most beneficial aspects of SAP S/4HANA for Mill Products.
Business Planning: Implementing SAP S/4HANA can help transform the supply. Having a responsive and resilient supply chain can be beneficial for a successful mill product company. Thus, SAP's Business Planning software can be highly effective for your supply chain and strategic planning. It is also helpful in strategic planning and teams of the supply chain. Thus, it can positively improve customer satisfaction and productivity.
Inventory, Operation Planning, and Sales
Insights and demand management
Supply planning and response
Project management and portfolio
Product configuration and development
Asset operations and Manufacturing: A successful mill product company will be able to perform this with transparency and real-time visibility. The SAP S/4HANA Manufacturing software helps to optimize the manufacturing process and reduce cost. Besides, it is also highly effective in making a responsive manufacturing team. Therefore, it can improve production, maximize quality and reduce manufacturing costs.
Manufacturing networks
Industrial Insights
Asset performance management
Asset maintenance and operations
Asset collaboration
Digital Logistics: It is highly effective in balancing delivery costs and customer service. Since it is critical to optimizing shipping, freight, and warehouse operation for mill product companies, the digital logistics of SAP S/4HANA can be extremely rewarding. So, improve your on-time delivery and performance with digital logistics. The information gathered from the advanced solution can be highly effective.
Tracking Logistics Networks
Warehouse and yard management
Order promising
Transportation management
Sustainable Customer Relationships: The 360 degrees of sales order commitment, customer insight, and fulfillment ensure sustainable sales. Since customers are digitally connected, exceeding their expectations can be critical in driving revenue. With the SAP solution, mill product companies can be empowered by simplifying the process and getting real-time insights.
Experience management
Sales force automation
Seamless omnichannel commerce
Omnichannel customer service
Sales performance management
With the multitude of advantages of SAP S/4HANA Solutions for Mill Products, it has become inevitable. If you want to integrate SAP S/4HANA Solutions, consider choosing Cogniscient. They have the professionals and knowledge to help you make the best use of the products and solutions.