What are the modules in SAP S/4HANA?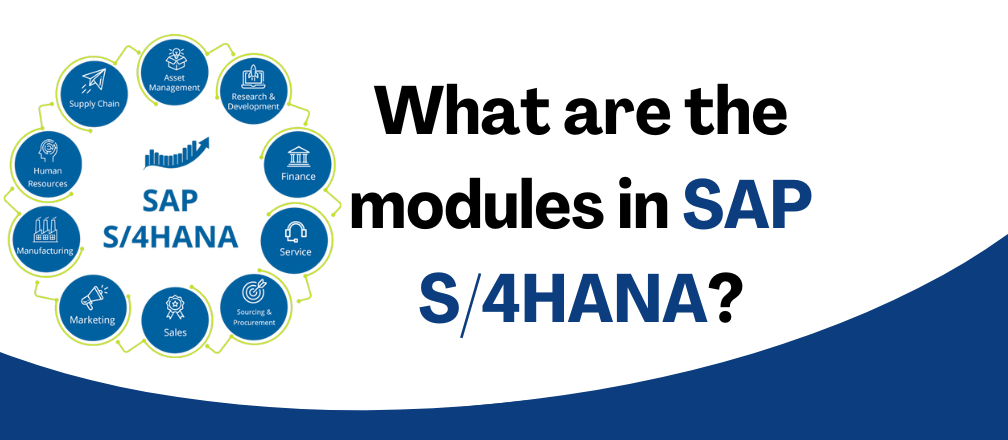 In the current scenario, businesses require extra effort to digitize their operations. While SAP has provided a multitude of options, SAP S/4 HANA is one of their ERP modules. It is an ERP suite that has been designed for performing different business operations like business planning, text processing, implementing real-time applications, and analyzing business data.
SAP S/4 HANA can easily store your business data. It is designed with a database and column-oriented relational management system that helps gather and retrieve data. This ERP uses an in-memory database to store your vital business information. Undeniably using this SAP suite will help you to make better management of your business. So, we will find out the modules included in SAP S/4HANA Cloud .
Module us of SAP HANA:
The latest SAP suite consists of a whole range of module lists. Regardless of the business vertical, SAP HANA has the capability of helping you in a diverse manner. With an entire range of features included in this suite, companies can enjoy a whole range of features within their operations and improve the decision-making process while reducing their expenses.
So, are the list of modules in SAP HANA.
PM or plant maintenance:
SAP S/4 HANA consists of the plant maintenance module as the central component. It can be constructive for organizations to maintain their inventory and equipment.
Human capital management or HCM:
Human capital management is a crucial aspect or can be said as a functional module in this HANA. It can be highly valuable for businesses to maintain their price, stocks, and finances.
PP or production planning:
SAP HANA includes production planning that can be beneficial for businesses to create planning, business plans, capacity planning, and billing.
PS or project systems:
The project system is another module in SAP HANA. Thus, integrating it into your business operation can be beneficial for monitoring all the different activities related to the project within your organization.
Customer service or CS:
CS is another core thing in the HANA ERP model. Therefore, using this module can make it easy for organizations to maintain customer relationships along with it also integrates other functional modules.
CO or controlling:
Controlling is another module in HANA. Thus, this module can help organize and optimize the different enterprise-related activities.
Sales and distribution or SD:
Sales and distribution is the critical component of HANA. Therefore, this ERP module can help businesses manage goods shipment, generate sales documents, and sell and manage billing processes. This module is also an essential aspect of logistics, as it can prepare quotations and maintain customer relationships.
Finance:
Finance is a common part of every business. No wonder it is a compulsory module in HANA. Therefore, it can be beneficial in managing accounting and finance-related activities within an organization.
Material management or MM:
The material management module is another important aspect of SAP HANA. This can help organizations to manage their inventory, material, and warehouse. Therefore, it can be beneficial to maintain the supply chain process.
These are some of the modules included in SAPS/4 HANA. However, if you wish to implement it in your organization, you must choose the right implementation partner like Cogniscient.