What is the difference between SAP Business One and SAP S/4 HANA?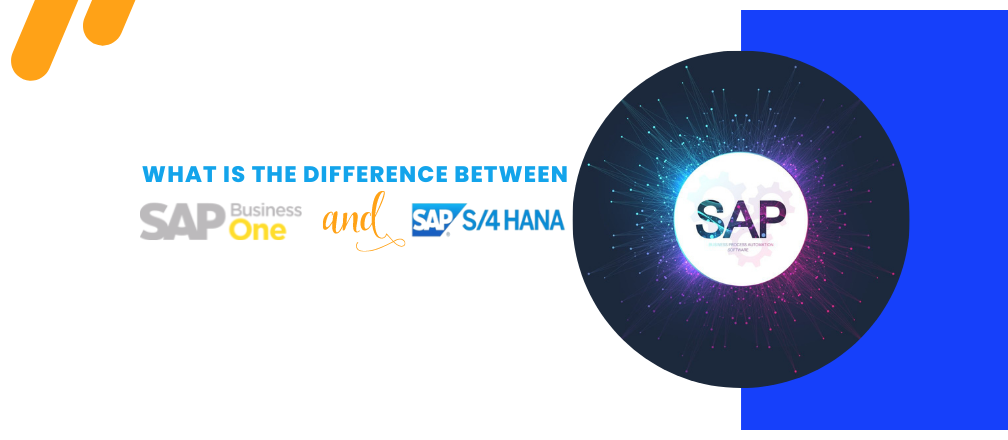 SAP is the ERP suite that allows businesses to improve and manage operations. Hence, such solutions can become crucial for data analysis to offer valuable insight. This information is essential for every industry to get improved visibility in the supply chain and operation. Thereby helping organizations to improve productivity and reduce inefficiency.
With two ERP solutions by SAP, you must understand the key differences. The SAP Business One and SAP S/4 HANA cloud are the two versions. Both versions have a range of functionality that can automate processes by reducing costs and improving operations. Besides, both models use SAP HANA for the in-memory database technology.
What is SAP Business One?
SAP Business One is a solution for small businesses. Thus, it included functionalities that make it ideal for companies with limited financial resources. It is an affordable one and offers companies to scale by using it in the process.
Businesses have the freedom to implement the whole suite with functionalities or choose a modular approach. Even it offers organizations to add new modules by making use of SAP Business One. Moreover, it also offers the chance to scale when expanded.
To be precise, SAP Business One is the unique ERP solution that can operate on both Microsoft SQL and SAP HANA. Therefore, it is a software that can be customized according to the needs.
What is SAP S/4 HANA Cloud?
This is the cloud-based model which has been designed to be integrated into larger organizations. Businesses with more stability can enjoy the benefits of their integration. Therefore this solution comes with a higher pricing structure compared to the SAP Business One. The functionalities can be highly beneficial.
SAP S/4 HANA Cloud has almost all the functions that the business requires to improve its operations and manage its supply chain. These functionalities enable businesses to include predictive analytics and comprehensive data analysis.
It offers companies the power to seamlessly perform the steps by using emerging technologies. These include AI, IoT and Big Data. Thus, making it the best choice for the larger organization with sound financial resources.
What are the prime differences?
Even when both SAP S/4 HANA Cloud and SAP Business One offer comprehensive ERP business solutions, there are some differences. Therefore companies require understanding them to make the best choices with different needs.
The first one is the scale of the company. SAP Business One can be the best choice for companies with less than 500 employees. On the other hand, SAP S/4 HANA Cloud is a good choice for corporations with larger members.
The pricing of SAP S/4 HANA Cloud depends on the number of people using it while SAP Business one is the monthly billing. Thus, businesses can choose as per their company's growth and needs.
Which One Should You Pick?
As has been discussed above, the organization scale, the goals and the resources available are the factors. Based on your decision, you can choose Cogniscient to implement SAP S/4HANA Cloud ERP Software or SAP B1.