How is SAP Business ByDesign digitizing manufacturing business?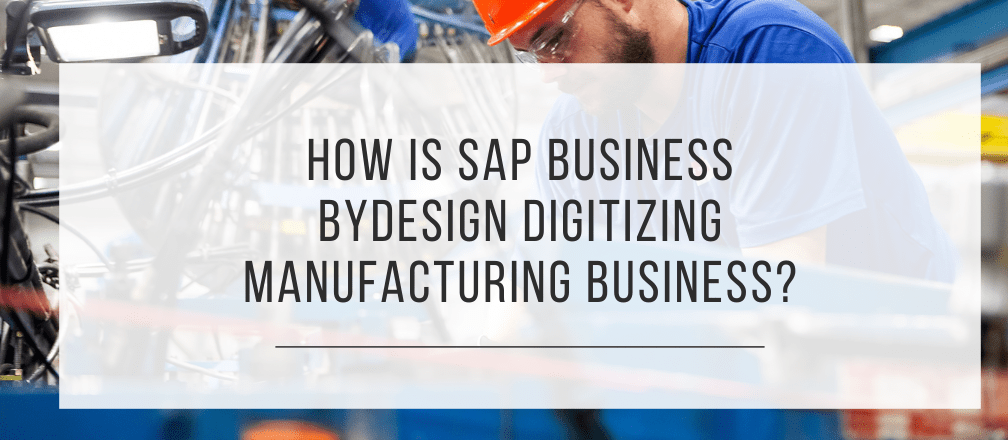 SAP Business ByDesign is a cloud-based ERP solution for different businesses. Businesses can easily tailor these ERP software solutions according to their requirements to meet the expectation. Thus, SAP Business ByDesign is most commonly considered a beneficial inclusion for mid and small-sized businesses. While different verticals of businesses can enjoy various benefits, manufacturing businesses are certainly on top.
Considering the vast range of advantages provided by the SAP Business ByDesign ERP platform, manufacturing industries can enjoy staying ahead of the competition. Additionally, a survey of more than a thousand manufacturing companies using the SAP Business ByDesign platform has been observed to improve their business performance by digitizing and automating operations.
SAP Business ByDesign for manufacturingindustries:
When it comes to the manufacturing industries, SAP Business ByDesign is probably the one software suite with infinite capabilities. Besides, it has been developed in a way that it can efficiently align business operations from HR, logistics, and finance to production and procurement. Therefore, implementing this single ERP solution helps cut down other business expenses.
The entire suite of SAP business by design can effectively be implemented in different aspects of manufacturing industries. However, you must choose a renowned implementation partner for SAP Business ByDesign to complete your requirement.
Effective functionalities of SAP Business ByDesign for manufacturing industries:
So, here we will find out some elements included in this ERP software that can be advantageous, especially for the manufacturing industries.
Enterprise level functionality: For a long time, the ERP systems for the enterprise have been on trend. However, several manufacturing industries struggle to integrate the solution into their operation. Regardless of how efficient their existing models are, businesses fail to map their level by ERP software.
To make sure that businesses can easily handle this problem, there has been a huge shift to enterprise solutions like SAP Business ByDesign. Implementing this advanced software ensures quality operation and digitizing business solutions. Besides being cloud-centric, it becomes easy for operation managers to access the different aspects of the application remotely.
Easy user interface: One of the critical aspects of manufacturing industries is to stay aware of product demand. In order to ensure the proper flow of your business, there must be a synchronization between supply and demand. Since traditional forms of companies failed to synchronize, manufacturing industries often suffered considerable losses.
SAP Business ByDesign has an excellent interface that can be integrated and different aspects of your industry. It can take care from inventory to forecasting to sales to financial prospects and fulfillment. This can be highly beneficial for manufacturing industries to keep track of their inventory and ensure meeting the divorce demand.
Supply chain management: With an exceptional design of supply chain operations, the SAP Business ByDesign software can effectively manage your supply chain. It helps the managers to scale when they are planning to develop a new product line easily.
Since the data remains in the cloud and is digitized, the prediction of the system is very accurate. Hence, it can be highly beneficial for your business.
Get in touch with an implementation partner like Cogniscient for customized integration.