What are the benefits of an End-to-End business scenario in SAP Business ByDesign?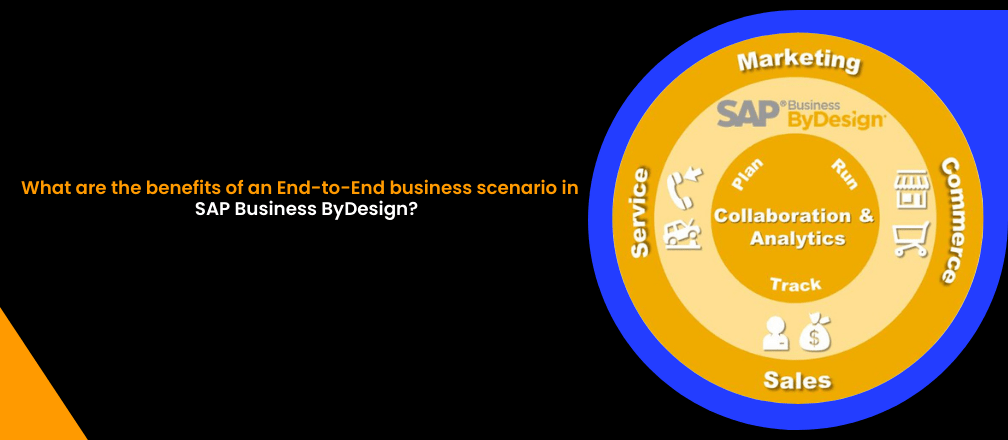 With more promising opportunities showing up, mid-sized companies are only becoming better every day. However, to compete in the modern scenario, there is a need for mid-sized businesses to find and invest in the right technology. This will become helpful in finding opportunities and diminishing challenges.
Being a mid-sized company, if you aspire to reach the zenith, you require a reliable and fast solution. Thus, you have to find technology that can unify vital business processes and offer visibility to real-time operations. SAP Business ByDesign is a cloud-based solution that is backed with leadership, innovation, and experience.
SAP Business ByDesign:
The design of this competent and intelligent cloud-based solution is primarily for large enterprise subsidiaries and mid-sized businesses. Thus, you can always find SAP Business ByDesign as a SaaS subscription model. This offers the complete advantage of the end-to-end SAP business solution. However, the cost and complexity are surprisingly much lower.
Rather than developing separate modules and later integrating them, this can be a better choice. This SAP module is created organically just as the business grows. Therefore the premade processes in this system become beneficial for a range of business functions.
Leveraging the best industry practices, SAP Business ByDesign can be a good choice. Therefore, let us have a look at some of its salient features.
Salient Features of SAP Business ByDesign:
Exceptional Cloud Infrastructure:
SAP professionals are the ones to maintain and monitor this cloud solution. Therefore you can enjoy the benefit of advanced cloud platforms. Some of them are stability, world-class performance, reliability, security, stability, and much more.
Customers can enjoy the benefits of fast deployment and affordable costs without spending much on the in-house department. Since SAP keeps adding improved functionalities and features, it continues to become the right choice for businesses.
On-demand Application:
With the growth and evolution, operations require support from advanced technology. Whether it is about creating new product lines, or customer segments, new technology is a need. Thus, when you have the backup of such a technology, you can enjoy ease.
SAP Business ByDesign is effortlessly configurable and flexible. It offers the freedom to scale for growth requirements and expansion. Thus customers can choose to enable business scenarios to meet the need. It can add new functionalities and more users. So to say in simple words, customers will pay only for what they are using.
Business Intelligence:
Integration of end-to-end SAP Business ByDesign ERP solution eliminates redundancy and data silos. Thus, you get one source where you can find everything. This complete visibility can be helpful to find issues and fix them much faster. Therefore, you will find it much easier to use. Besides, analytics is not an add-on to this technology, but it is embedded. It ensures ease in its processes.
Thus, you will be able to monitor and track the operational metrics. Users can therefore get accurate details and make informed decisions. SAP Business ByDesign can be the best choice. Choose Cogniscient for easy installation and consistent support from professionals.