How Customized ERP for Manufacturing Industry Help Complex Manufacturing?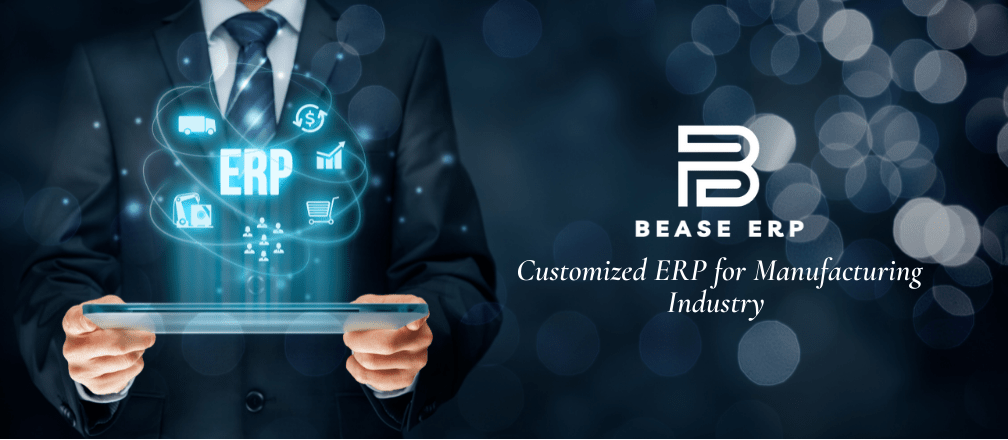 Every time the demand of customers shifts and they want a new item, which industry has to pump up? The manufacturing industry, of course. Keeping up with the demands of the market and come up with innovations is what the manufacturing industry is about.
Manufacturing is one of the most competitive businesses with a tremendous growth rate in the last decade. A business like yours that has to stay ahead and take care of client's success, what is taking care of your success?
Bease ERP is a customized ERP for the manufacturing industry that makes your business better, your processes smoother, and your profits higher.
Your partner in growth
If you are a small or medium-sized manufacturing business, you probably want to grow bigger, right? But the intense competition makes it difficult. That is why process optimization and operation streamlining become an essential part of growth strategy.
With custom ERP, you can ensure that the software is perfectly built to fit in your business ecosystem, addresses all the needs, and contain only those modules that you need (why pay for features that you won't use and don't need?).
An ERP suite offers 360-degree control of the business, helps you save cost, and automates processes like purchase, sales, inventory management, etc.
Benefits of customized ERP for the manufacturing industry
With a custom ERP solution for your business, you can tweak the modules your way. That means, the modules are perfectly in synchronization with your processes and streamlines them as perfectly as possible.
And the best thing is that you can opt out of the modules that you do not currently need. Off-the-shelf suites do not offer this. You can optimize processes like tracking, task scheduling, supply chain, delivery, logistics, and so much more with an end-to-end ERP.
Here is a quick overview of how it benefits your manufacturing business:
Production Management
When you think of production, you think of low productivity, messed-up activity cycles, and poor ergonomics on the floor. With Bease ERP, all of that becomes history, and meeting production timeline targets becomes easy. The suite helps you keep up with the swinging customer demands and optimize the process to continue doing the same.
Inventory management
With Bease ERP, recordkeeping and maintaining stock becomes smoother and better. The suite tracks store movements, logs the items, and prompts new order requests at the set threshold so that you never run out of raw material to meet the production targets. With real-time insights, you can make quick decisions related to inventory.
Sales and purchasing
With this module, you can manage new material requests, supplier listings, and get on-demand insights. By integrating this module with inventory and logistics, you have to do absolutely nothing when Bease ERP takes care of stock data, purchase orders, invoices, etc. With this ERP, you can maintain a strong relationship with the suppliers and vendors; an essential for manufacturing businesses.
Conclusion
Bease ERP is a customized ERP for the manufacturing industry that is built for growing SMBs. To know how our team can help your business scale growth and profitability, schedule a free call with our experts.